Rainbow Cake
By: Grace Dale
How To Make It:
To get started making this cake, you'll make the vanilla cake batter. After combining your dry ingredients – all purpose flour, baking powder and salt – and setting those aside, you'll cream your butter, oil and sugar together. This can be one of the most overlooked steps when making cakes. I know because back when I first started baking, I didn't really get it myself. Then one day I saw the difference and it clicked!
Beat the butter, oil and sugar together until you notice a very clear difference in the texture and color of the mixture. It'll lighten in color and become light and fluffy in texture. This step adds air to batter that helps it rise and makes it lighter.
Speaking of the importance of this step, you also want to use a great quality butter. As you may already know, I'm a big fan of Challenge butter. It's such a creamy butter made from the freshest milk and goes from farm to fridge in just two days. Plus, there aren't any growth hormones, nor do they use any artificial preservatives, fillers or dyes. You know you're getting a high quality butter when you get Challenge and it shows in it's creamy texture.
Once things are creamed, add your eggs and vanilla extract. Finally, add your dry ingredients and buttermilk by alternating adding them to the batter. Be sure not to over mix the batter. It can over develop the gluten in the flour and you end up with a tough cake. No fun!
As for the milk in this cake, I use buttermilk. It really lends a more tender cake in this instance, so I 100% recommend it. I know it's a pain to buy a whole container of buttermilk, so do what I do and buy powdered buttermilk. It's brilliant! You add a little of the powder to your dry ingredients, then add water when it's time to add the liquid. The powdered buttermilk stays good for months in the fridge, so you can use it in later recipes without having to waste anything.
RAINBOW SWIRL:
When it comes to the swirl, I spent a lot of time getting the batter for the swirl of this cake just right. You don't want to use a batter that's too thin or the colors will mix together, rather than staying separated. And even a batter that seems thick enough can sometimes end up with things not turning out quite right. This cake batter is great – the colors stay in place and bake up just right so that when you cut into your cake, you get a nice cross section of color.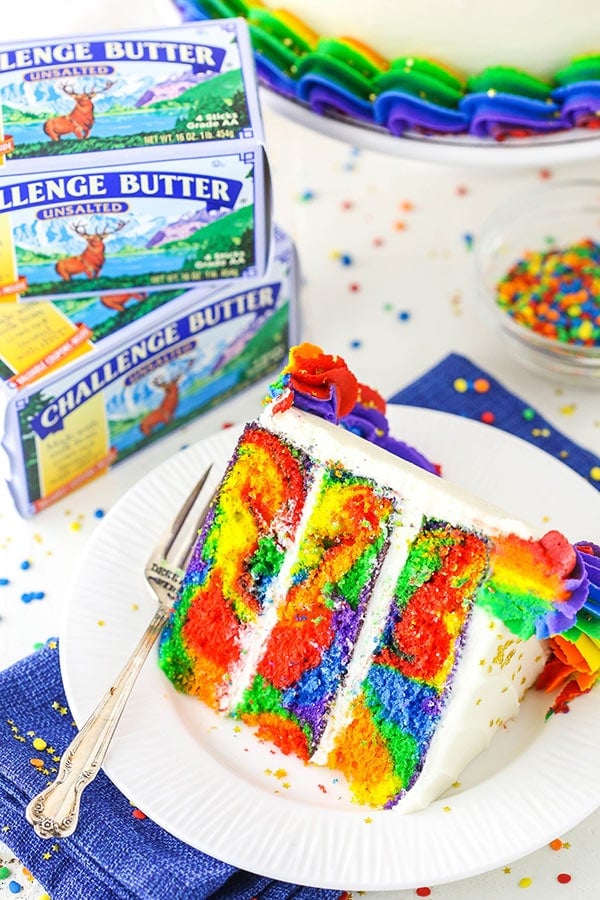 Once your batter is made, divide it evenly between 6 bowls. I used my scale to make sure everything was even, but if you don't have a scale, it should be a little more than one cup per color.
As far as technique goes, there's really no wrong way to do it. It's all about the look you want. For the cake you see in the photos, I dropped spoonfuls of color at a time, shaking the pan from side-to-side between each color to help the batter spread out a bit and color more area. You end up layering the colors on top of each other a little more, giving more of a "swirled" appearance.
But you could also drop larger spoonfuls around, more like in the video below, and have them be a little more pronounced. Totally up to you. Given the nature of the cake, you could make it 10 times and it'd be a little different every time. Part of the fun!
Once the cakes bake, let them cool completely before frosting them.
RAINBOW CAKE FROSTING
When it comes to frosting the cake, I really wanted to use white for the main color. It gives the colorful cake a bit of a "blank" background to stand out against. But of course you need to know what beauty is waiting for you inside so the rainbow piping is the perfect little hint.
To create the effect, you'll need to add all the colors to your piping bag. To do this, grab some clear wrap and pipe a line of each color right next to each other. Roll it up and place it into a large piping bag. Pipe the frosting shells around the cake and after each shell, give the piping bag a slight turn. That little turn gives the little rotating look of the colors in the piping. One of my favorite parts of the cake!
RAINBOW BIRTHDAY CAKE
The final Rainbow Swirl Cake is moist, delicious and so happy! It would make the perfect birthday cake, celebration cake or St. Patrick's Day Cake! Make it your own and have fun!
Ingredients:
3 cups

 (

390g

) all purpose flour

3 tsp

 baking powder

1 tsp

 salt

3/4 cup

 (

168g

) unsalted Challenge, room temperature

1/4 cup

 (60ml) vegetable oil

2 cups

 (

414g

) sugar

4

 eggs

1 tbsp

 vanilla extract

1 1/3 cups

 (400ml) buttermilk*
Violet gel icing color
Royal Blue gel icing color
Leaf Green gel icing color
Lemon Yellow gel icing color
Orange gel icing color
Red gel icing color
VANILLA RAINBOW BUTTERCREAM
2 cups (
448g

) salted Challenge, room temperature
1 cup

 (

189g

) shortening

11

–

12

 cups (

1265g

-1

380g

) powdered sugar

1 tbsp

 vanilla extract

4

–

5

 tbsp (60-75ml) water or milk
Violet gel icing color
Royal Blue gel icing color
Leaf Green gel icing color
Lemon Yellow gel icing color
Orange gel icing color
Red gel icing color
About the Writer
Grace Dale, Writer
I am Grace Dale, I enjoy making food going to cooking class, and trying new recipes and sharing the reveiw for the school newspaper. My favorite hobbie...